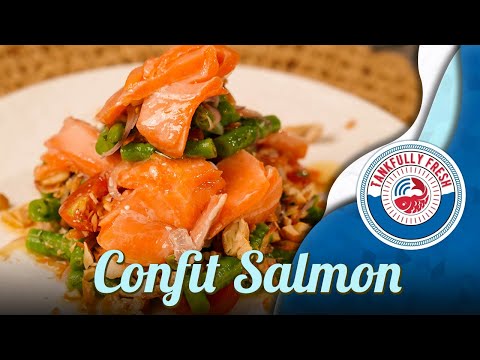 Ingredients
| | |
| --- | --- |
| Quantity | Ingredients |
| 300g | Fresh Salmon Trout Fillet |
| 15g | Fish Sauce |
| 25g | Calamansi |
| 25g | Palm Sugar |
| ½ a piece | Red Onions |
| 5-8 pieces | Cherry Tomatoes  |
| 100g | Green Beans |
| 10g | Dried Shrimps |
| 10g | Cashew Nuts (Crushed) |
| 300ml (Enough to cover fish in pot) | Extra Virgin Olive Oil |
Directions
Cooking time!
1. Cure the salmon by seasoning it with salt and sugar at least 15 min before you're about to cook.
2. Make the sauce by mixing all the ingredients together, making sure that the sugar is fully dissolved.
3. Prep the salad by slicing the onions thinly, cutting the tomatoes into quarters, and the green beans into bite-size lengths.
4. Prepare a pot of boiling water and put the cut green beans in for 30-40s, or until they are cooked.
5. Strain the hot water and plunge the green beans into ice water to keep the color bright and also to prevent it from overcooking.
6. Mix all the salad ingredients together. Set aside.
7. In another small pot, heat up the olive oil until about 60-70 degrees celsius.
8. Pat the fish dry and add it to the pot of oil. At this point, maintain the temperature no hotter than 80 degrees celsius. We are looking for a moist, soft tender salmon that just starts to flake. It will take about 8-10 minutes depending on the size of the salmon.
9. Once the salmon is cooked to the desired temperature, remove from the pot and let it sit. 10. Start plating the salad on your plate, followed by the dried shrimps, crushed cashew and the salmon flakes.
Tankfully Fresh Recipes Series!
Salad mixed with Salmon by Tankfully Fresh! Let us share one of our Tankfully Fresh Recipes with you! Enough for 2-3pax. Do share this if you find this recipe useful. Spread the love for seafood!