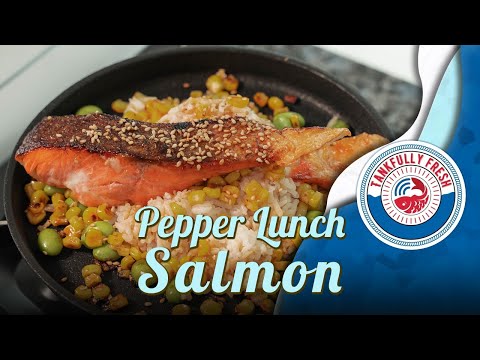 Directions
Cooking time!
1. Prep the fish by cutting it to the desired portion and season with salt, sugar, and sesame oil, letting it sit for at least 15 minutes.
2. To make the sauce, combine Shoyu, sesame oil, rice vinegar, sugar, wasabi paste, and a sprinkle of sesame seeds. Stir till the sugar dissolves.
3. In a dry pan at medium-high heat, put the corn in and toast them till it is fragrant. Add 1 tsp of oil, a pinch of salt, and sugar, and cook till the corn caramelizes. Set aside.
4. In a hot pan with oil at medium-high heat, lay the salmon skin side down and sear till the skin gets crisp. Flip the salmon and cook for another 1 min at medium heat.
5. Heat up the cast iron plate till it sizzles when you sprinkle water on it. Add your bowl of cooked rice, edamame, and corn around it and fish on top. Lastly, drizzle the tare sauce all over and finish with sesame seeds as desired.
Tankfully Fresh Recipes Series!
Cook up an easy Salmon Pepper Rice with Tankfully Fresh! Let us share one of our Tankfully Fresh Recipes with you! Enough for 1-2pax. Do share this if you find this recipe useful. Spread the love for seafood!