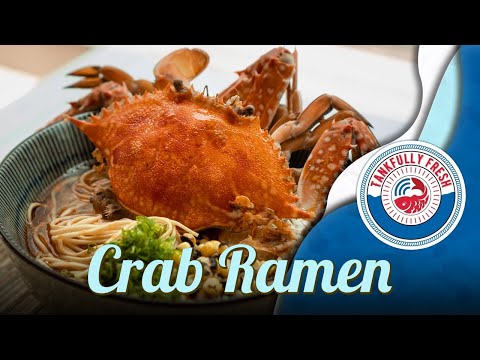 Ingredients
| | |
| --- | --- |
| Quantity | Ingredients |
| 5 pieces | Flower Crabs (halved and cleaned) |
| 8-12 pieces | Prawn Heads |
| 1 pack | Ramen |
| 5g | Katsuobushi |
| 30g | White Miso |
| 70g | Japanese Soy Sauce |
| 35g | Honey |
| 30g | Japanese Brown Rice Vinegar |
| 4 pieces | Spring Onions Whites |
| Up to preference | Sweet Corn (Blanched) |
| 3-4 pieces | Konbu, 2cm |
| 100g | Yellow onions, large chunks |
| 3 pieces | Dry Chilies |
| Up to preference | Spring Onions (Cut thinly) |
Directions
Cooking time!
1. In a pot, add the konbu and water together and on medium-high heat, bring it to a boil.
2. Take out the konbu once it has boiled then turn it down to a simmer.
3. Add 3 pc of halved crabs and the spring onions whites in for the stock, bring it back up to a simmer, and skim the scum on top. Let it continue to simmer for at least 15 min.
4. Once the flavor is extracted to the liquid, add the katsuobushi in for 30 seconds and remove all the contents from the liquid.
5. In the same pot, poach the remaining crabs for 2 minutes and side aside.
6. Add the white miso in and stir till it dissolves, strain the broth into a separate pot and season it with Japanese soy, honey, and rice vinegar.
7. In a pot, add the oil and bring it up to temperature. Add the prawn heads in and let them fry till they are fragrant and turned colour.
8. Add the onions and the dry chilies and continue frying. The oil should start taking on a red hue and fragrance from the contents. Strain through the oil.
9. In a bowl, char the corn on one side and set aside.
10. Blanch the ramen in a pot of boiling water, following the instructions of the respective packet that you bought.
11. In a bowl, add the prawn oil at the bottom, layering it with the blanched ramen, poached crabs, and charred corn. Add boiled hot broth into the bowl and ladle it over the crab.
12. Garnish it with spring onions.
Tankfully Fresh Recipes Series!
Cook up an easy Crab Ramen with Tankfully Fresh! Let us share one of our Tankfully Fresh Recipes with you! Enough for 1-2pax. Do share this if you find this recipe useful. Spread the love for seafood!