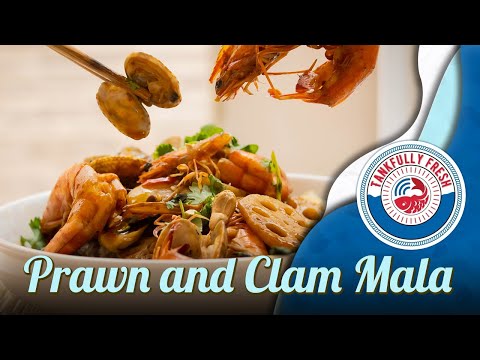 Ingredients
Quantity
Ingredients
5 pieces
Prawns of your preference
8-10 pieces
Cooked Flower Clams with liquid
100g
Milk Cabbage (

Nai Bai

) (Cut in half, and Blanched)
10g
Ginger (Sliced)
15g
Garlic Cloves (Cut half lengthwise)
60g
Szechuan Broad Bean Paste
10g
Soy Sauce
10g
Sugar
5g
Salt
6 pieces
Dried Chillies (Rehydrated and Cut)
80g
Peeled Lotus root (Sliced and Blanched)
50g
Enoki Mushroom (Blanched)
1 piece
Red Chilli (Sliced)
1 tsp
Fennel Seeds
1 piece
Cinnamon
2 pieces
Star Anise
Up to preference
Coriander (Cut)
Up to preference
Baked Cashew Nuts
Directions
Cooking time!
1. Process the prawns by cutting the prawns in half on the belly, but not all the way through. Open up and season them with salt lightly.
2. In a hot pan, toast the fennel, cinnamon, and star anise till fragrant. Add the oil and fry the spices for 2-3 min at medium-low heat.
3. Strain the oil and put it back in the pot.
4. Add the dried chilies and fry them till they are crispy and set aside.
5. In the same pan of oil, add the ginger and garlic over low heat till they are well caramelized. Take them out from the pot.
6. Add the broad bean paste, soy sauce, salt, and sugar in and stir well.
7. Turning the heat back to medium, add the lotus root and enoki mushroom.
8. Followed by milk cabbage (Nai Bai) and prawns stir fry them together before adding the sliced chili.
9. Add clams together with the liquid and mix well.
10. Put the prawns and clams stir fry on a plate, and garnish with coriander and cashew nuts.
11. Ready to be served.
Tankfully Fresh Recipes Series!
Cook up an easy Prawn And Clam Mala with Milk Cabbage with Tankfully Fresh! Let us share one of our Tankfully Fresh Recipes with you! Enough for 2-3pax. Do share this if you find this recipe useful. Spread the love for seafood!