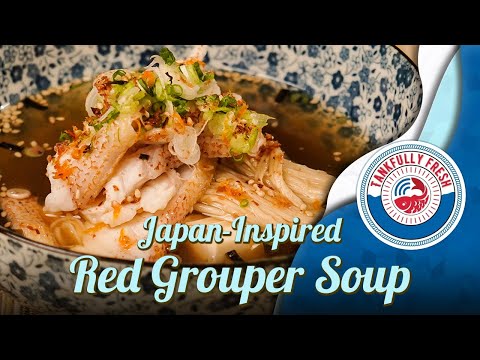 Ingredients
| | |
| --- | --- |
| Quantity | Ingredients |
| 300g | Red Grouper Fillet |
| 5g | Kelp Powder |
| 2g | Katsuobushi |
| 550g | Water |
| 1 tbsp | Water |
| 3/4 tbsp | Honey |
| 1/4 tbsp | Rice Vinegar |
| 10ml | Usukuchi Soy Sauce |
| 50g | Enoki Mushrooms |
| 100g  | Silken Tofu |
| 1 piece | Orange |
| Up to preference | Spring Onions (For Garnish) |
| Up to preference | Furikake (For Garnish) |
Directions
Cooking time!
1. Cut the grouper into thin slices and lay it flat on a plate. Season it slightly with a little bit of salt only. Set aside.
2. Make the broth by adding the water and kelp powder. Bring it up to a boil and off the fire. At this point, put the katsuobushi in and let it steep for 30 seconds. Strain.
3. Return the broth to a pot and season it slightly with a mixture of water, honey, rice vinegar, and soy sauce (Season with salt to preferred taste)
4. Prepare the ingredients by cutting the tofu into cubes and enoki mushrooms into sizeable portions.
5. Once the broth is seasoned and brought back up to a simmer, add the mushrooms and tofu in and cook for 1 min.
6. Next, add the grouper in and turn off the fire. Take the fish out when it is still translucent.
7. Plate the rest of the ingredients in a bowl, followed by the fish and soup.
8. Top it off with sliced spring onions, furikake, and orange zest.
Tankfully Fresh Recipes Series!
Japan-inspired Red Grouper Soup by Tankfully Fresh! Let us share one of our Tankfully Fresh Recipes with you! Enough for 1-2pax. Do share this if you find this recipe useful. Spread the love for seafood!