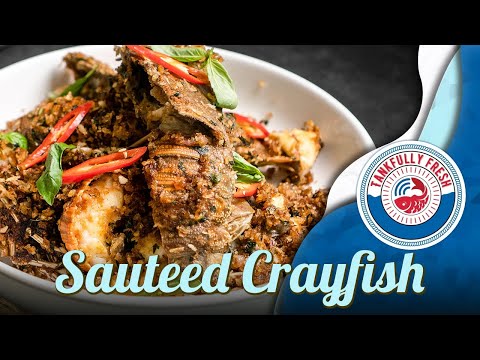 Ingredients
| | |
| --- | --- |
| Quantity | Ingredients |
| 5 pieces | Slipper lobster / Crayfishes |
| 200g | Red Shallots |
| 160g | Garlic |
| 100g | Basil (Plucked) |
| 100g | Breadcrumbs |
| 150g | Vegetable Oil |
| 30g | Kicap Manis |
| 10g | Fish sauce |
| Up to preference | Red chillies (Sliced for garnish) |
| Up to preference | Basil (Sliced for garnish) |
Directions
Cooking time!
1. Prepare the crayfish by cutting it in half. Set aside.
2. Cut the vegetables into manageable chunks to be processed in the food processor. Pulse the shallots and garlic till it is well chopped.
3. Process the basil and set it aside separately.
4. In a small skillet, heat the pan to medium heat and add 125g of oil together with the shallots and garlic mixture. Sweat it until the shallots turn translucent and fragrant.
5. Turn the heat down to low and add the chopped basil along with a dash of sugar and fish sauce.
6. In a larger skillet, bring the heat up to high and add oil. Put the crayfish flesh side down and let it sear. Toss it around and cook for about 1 minute. Take the crayfish out.
7. Using the same pan, add the breadcrumbs and toast them slightly. Before it colours, shift the breadcrumbs to the top of the pan and add the pesto, frying it slightly before mixing with the breadcrumbs.
8. Add the crayfish back to the pan and add the seasoning of fish sauce and kicap manis. Fry till the breadcrumbs are well mixed.
9. On a plate, arrange the crayfish and breadcrumbs nicely.
10. Garnish with red chilies and basil and you're ready to serve!
Tankfully Fresh Recipes Series!
Sauteed Crayfish with Pesto Breadcrumbs by Tankfully Fresh! Let us share one of our Tankfully Fresh Recipes with you! Enough for 1-2pax. Do share this if you find this recipe useful. Spread the love for seafood!