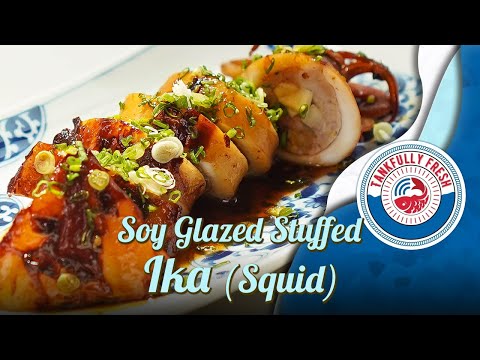 Directions
Cooking time!
1. Clean the squid by separating the tube from the tentacles where the innards will come out along with it.
2. Using a pair of scissors, cut just below the eyes and remove the hard ball shaped with the beaks in it and only keep the tentacles.
3. Going back to the squid tube, use your fingers or a spoon to remove anything inside the tube.
4. Give it a good rinse and set aside.
5. Prepare the filling by mixing the pork with diced apples, 15g of soy, and a dash of white pepper. (Alternatively, you can use minced chicken and add a teaspoon of oil)
6. Mix the sauce in a bowl with Soy, honey, dashi powder, sugar, and rice vinegar.
7. Stuff the squid with the meat filling making sure that it fills up inside.
8. Leave about an inch of space for the tentacles to be positioned back to the tube, inserting the toothpick through.
9. In a frying pan at medium heat, add butter and put the squid in. Sear for 1 minute before turning it to the other side.
10. After it becomes a bit darker in color, add the sauce plus 50g of water to deglaze and continue cooking for another 2-3 minutes glazing it once in a while. (At this point, if your squid is bigger in size, you can cover the pan to allow it to steam for a while more.
11. Once the squid and meat inside are cooked, remove them from the pan and reduce the sauce to a syrupy consistency.
12. Slice the squid into manageable chunks and remove the toothpick carefully.
13. Plate it and spoon it over the sauce. Garnish it with chopped scallions.
Tankfully Fresh Recipes Series!
Stuffed Squid by Tankfully Fresh! Let us share one of our Tankfully Fresh Recipes with you! Enough for 1-2pax. Do share this if you find this recipe useful. Spread the love for seafood!