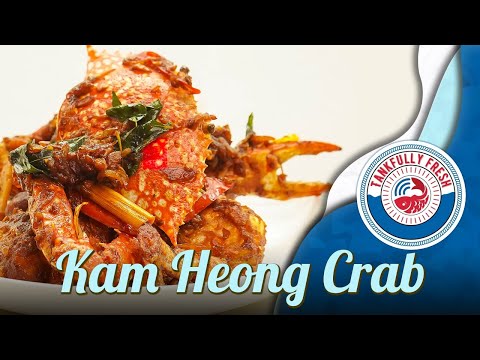 Ingredients
| | |
| --- | --- |
| Quantity | Ingredients |
| 3 pieces | Flower crab |
| 20g | Dried Shrimps (chopped) |
| 100g | Sliced Shallots |
| 50g | Sliced Ginger |
| 15g | Minced Garlic |
| 1 piece | Red chilies |
| 2 pieces | Lemongrass |
| 2 Sprigs | Curry Leaves |
| 60g | Curry Powder |
| 10g  | Sugar |
| 30g | Oyster sauce |
| 40g | Soy sauce |
| 10g | Fish Sauce |
| As needed | Water |
| As needed | Corn Flour |
Directions
Cooking time!
1. First, clean the crab by separating the shell from the body. Remove the gills and guts. Give it a good rinse. Cut the body in half.
2. In a mixing bowl, add 40g of curry powder and 20g of soy sauce. Mix till combined and marinate the crabs in it. Coat it with corn flour as needed. Set aside.
3. Prep the ingredients. Chop the dried shrimps, slice the shallots, ginger, and red chilies, cut the lemongrass in half and pound it for it to release its aroma more readily.
4. Fill a pot with oil and bring it up to 150-160C. Fry the crabs, flipping them periodically to make sure it is cooking. Fry for 2-3 minutes. Drain and set aside.
5. In a frying pan at medium heat, fry off shallots first before adding the ginger, dried shrimps, and garlic. Make sure that the aroma of the ingredients is released.
6. Following, add the red chilies and lemongrass. Add the curry leaves and curry powder before adding the remaining liquid seasonings. Add a bit of water to adjust the consistency.
7. Add the fried crabs and coat them in the sauce thoroughly.
8. Remove from heat and plate it.
Tankfully Fresh Recipes Series!
Kam Heong Flower Crabs by Tankfully Fresh! Let us share one of our Tankfully Fresh Recipes with you! Enough for 1-2pax. Do share this if you find this recipe useful. Spread the love for seafood!