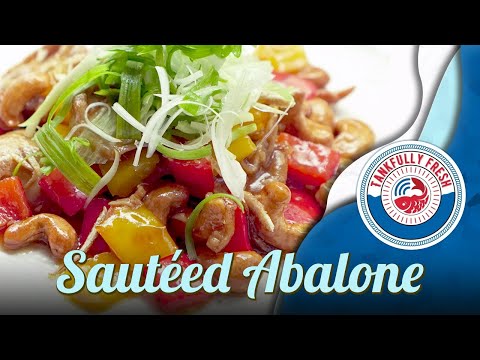 Ingredients
| | |
| --- | --- |
| Quantity | Ingredients |
| 1 can | Braised Abalone |
| 15g | Oyster sauce |
| 5g | Hon Dashi Powder |
| 5g | Sesame Oil |
| 25g | Red Peppers |
| 25g | Yellow Peppers |
| 1 tsp | Minced Garlic |
| 20g | Cashew Nuts |
| a pinch | Salt |
| 10g | Preserved Orange Peels |
| Up to preference | Scallions (For Garnish) |
Directions
Cooking time!
1. Prep the vegetables by cutting the peppers into small squares. Slice the preserved orange peel into thin slices.
2. Slice the abalone.
3. In a pan on medium-high heat, add oil and saute the peppers. Following, add the minced garlic till fragrant before adding the abalone.
4. Add the oyster sauce, Hon Dashi, and 2 tablespoons of the braised abalone canned liquid.
5. Next, add the cashew nuts and preserved orange peel slices and incorporate them together. If the dish is too dry, add a splash of water.
6. Plate the abalone onto a plate and garnish with more orange peels and sliced scallions.
Tankfully Fresh Recipes Series!
Another simple way to enjoy braised abalone by Tankfully Fresh! Let us share one of our Tankfully Fresh Recipes with you! Enough for 1-2pax. Do share this if you find this recipe useful. Spread the love for seafood!