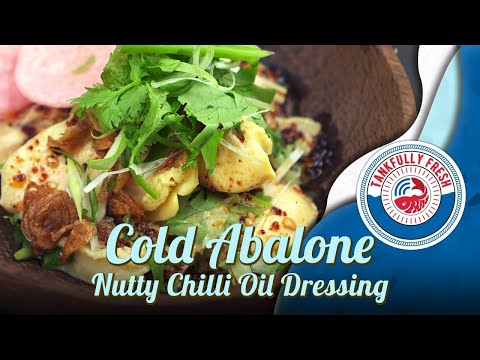 Ingredients
| | |
| --- | --- |
| Quantity | Ingredients |
| 1 can | Brine Abalone |
| 3 pieces | Star Anise |
| 2 pieces | Cinnamon |
| 10g | Cumin |
| 250g | Oil |
| 65g | Gochugara (Korean Chilli flakes) |
| 20g | Chicken Powder |
| 35g | Salt |
| 130g | Sugar |
| 80g | Peanut Butter (Your preference of Smooth or Chunky) |
| 30g | Sesame Oil |
| 80g | Soya Sauce |
| 35g | Black Vinegar |
| 100g | Mayonnaise |
| Up to preference | Scallions (For Garnish) |
| Up to preference | Corriander (For Garnish) |
| Up to preference | Fried Shallots (For Garnish) |
| Optional | Keropok |
Directions
Cooking time!
1. In a pot, put cinnamon, star anise, and cumin together with the oil and bring it up till you see the spices bubbling.
2. Turn the heat down to the lowest setting and cook it for another 15 min.
3. In a bowl, add Korean chilli flakes, chicken powder, 30g of salt, and 65g of sugar.
4. Using a strainer, strain the hot oil into the bowl, allowing the seasoning to mix with the oil. Set aside.
5. In another bowl, make the dressing by adding the peanut butter, soya sauce, sesame oil, black vinegar, mayonnaise, and the remaining salt and sugar.
6. Stir well and adjust the consistency with a splash of water if required. Reserve in the fridge.
7. Cut the abalone and store it in the fridge. 8. Cut the garnishes and set them aside.
9. Assemble the dish by layering the abalone and then the scallions and coriander and abalone again. 10. Spoon the dressing over the dish and then the chilli oil, as your preference spice. 11. Garnish with fried shallots, coriander, scallions, and keropok.
Tankfully Fresh Recipes Series!
A simple way to enjoy abalone by Tankfully Fresh! Let us share one of our Tankfully Fresh Recipes with you! Enough for 1-2pax. Do share this if you find this recipe useful. Spread the love for seafood!