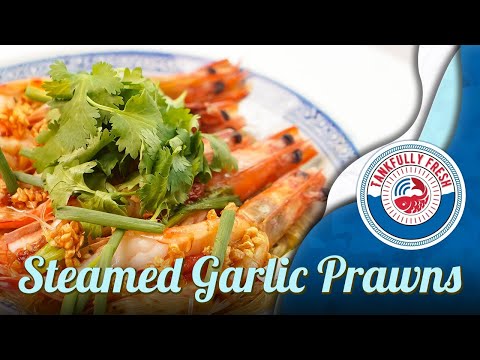 Directions
Cooking time!
1. Process the prawn by trimming the whiskers and legs. Follow by laying the prawns flat on the chopping board and using a sharp knife, starting from the start of the body, cutting it open till the tail but not through.
2. Open it up further and devein the prawns. Set aside.
3. Soak the vermicelli in water for at least 10 minutes in room temperature water. Drain and set aside.
4. Prepare the sauce by adding the minced garlic, oyster sauce, fish sauce, soy sauce, sugar, and water. Stir and combine thoroughly till the sugar is dissolved.
5. Prepare a pot of water with a steamer stand inside, and cover with a lid. Alternatively, you can use a rice cooker to steam.
6. On a plate, put the drained vermicelli and spread it out.
7. Lay the prawns on top of the vermicelli and spoon the prepared sauce over the prawns.
8. Scatter strips of spring onions and wolfberries all over.
9. Lower it into the steamer and steam for 4-5 minutes before checking. Make sure that the prawns are fully cooked through.
10. Take it out of the pot and garnish it with more spring onions, coriander, and fried garlic if desired.
Tankfully Fresh Recipes Series!
A simple and easy steamed garlic prawns with vermicelli by Tankfully Fresh! Let us share one of our Tankfully Fresh Recipes with you! Enough for 1-2pax. Do share this if you find this recipe useful. Spread the love for seafood!