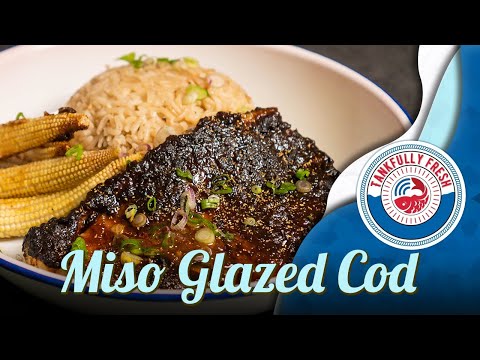 Ingredients
| | |
| --- | --- |
| Quantity | Ingredients |
| 200g-300g | Cod Fillet |
| 1 tsp | Salt |
| 1/4 tsp | Sugar |
| 50g | Miso |
| 1 piece | Orange |
| 100g | Honey |
| 75g | Rice Vinegar |
| 20g | Kicap Manis |
| As needed | Baby corn |
| Up to preference | Sesame seeds (For Garnish) |
| Up to preference | Sansho pepper (For Garnish) |
Directions
Cooking time!
1. Preheat the air fryer to 180C
2. First, season the cod fish with salt and sugar. Let it sit for 15 minutes.
3. In a pot, add the miso and squeeze the juice of 1 orange in.
4. Add the rice vinegar, honey, kicap manis, salt, and sugar in and bring it to a simmer.
5. Allow all the ingredients to come together and reduce them to a thick glaze. Set aside and cool down.
6. Add a thick layer of miso glaze on top of the cod fish.
7. Carefully put the cod fish in the air fryer basket with parchment paper lined at the bottom.
8. Add baby corn in and add a dollop of butter on top of the baby corn and air fry them at 180C for 8 minutes.
9. Once done, take it out from the air fryer and serve it together with rice and vegetables of your choice.
10. Garnish with Spring Onions and Sansho pepper.
Tankfully Fresh Recipes Series!
Cook up an easy Air fryer Miso Glazed Cod with Tankfully Fresh! Let us share one of our Tankfully Fresh Recipes with you! Enough for 1-2pax. Do share this if you find this recipe useful. Spread the love for seafood!